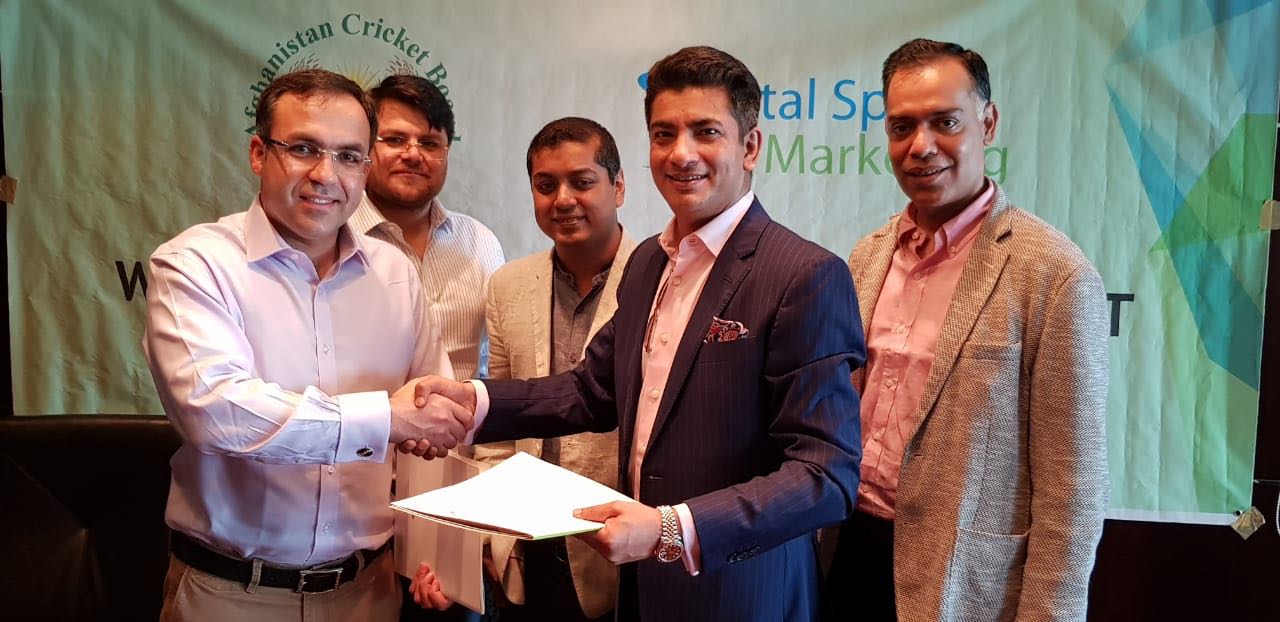 The Afghanistan Cricket Board (ACB) awarded Worldwide Media Rights to Total Sports Marketing (TSM) for all ACB-hosted International Cricket Matches and domestic Tournaments played under the auspices of ACB for a period of five years covering 2018-2023. A Memorandum of Understanding (MoU) was signed between both parties yesterday following the completion of the bidding process in which TSM had submitted the highest offer.
The partnership from 2018 to 2023 will cover worldwide media rights of all International home matches including Future Tours Program (FTP) of the International Cricket Council (ICC), bilateral cricket events, multi-lateral cricket events, and ACB's domestic cricket tournaments, ShpageezaCricket League and Ghazi Amanullah Khan One-Day Cup.
The partnership will commence with the upcoming three-match T20I cricket series between Afghanistan vs Bangladeshscheduled for 3rd – 7th June 2018 in Dehradun, India.Afghanistan will play against Australia, Bangladesh, Ireland, Pakistan, Netherlands, New Zealand, West Indies andZimbabwe as part of the Future Tours Program (FTP).
Total Sports Marketing (TSM) is Bangladesh's leading and pioneering sports management company having worked in the world cricket arena for over a decade. TSM has the media rights of all ICC Events and Asia Cups for Bangladesh territory along with worldwide media rights of Bangladesh Cricket Board's home International matches and Bangladesh Premier League (BPL).
Commenting on the new partnership, ACB Chairman Mr. Shukrullah Atif Mashal said: "The ACB is delighted to welcome Total Sports Marketing on board and we look forward to working together for the next five years for wider and far viewership of all ACB's events across the world. TSM brings global expertise and experience and we are certain of strong cooperation between both sides."
ACB CEO Mr. Shafiqullah Stanikzai who also present in the MoU signing ceremony welcomed the agreement between ACB and TSM and said: "This is a great step forward for Afghan cricket in general and Afghanistan Cricket Board in particular as we aim to take all our matches to audience across the world in this FTP and beyond, and TSM has the right credentials and experience to help us achieve this goal."
Mr. Md Moinul Haque Chowdury, CEO & Proprietor of TSM said: "We are extremely proud to associate ourselves with the Afghanistan Cricket Board. ACB and TSM's values are closely aligned to develop and grow the game of cricket across the globe. We look forward to working closely with the ACB to create an innovative and exciting cricket experiences for fans and other stakeholders to take exciting Afghan cricket brand to global audience."